sustainable initial equipment for babies - 5 tips
Congratulations, you're having a baby! Now the question is, what does the new person need - and how sustainable are all the things we can buy?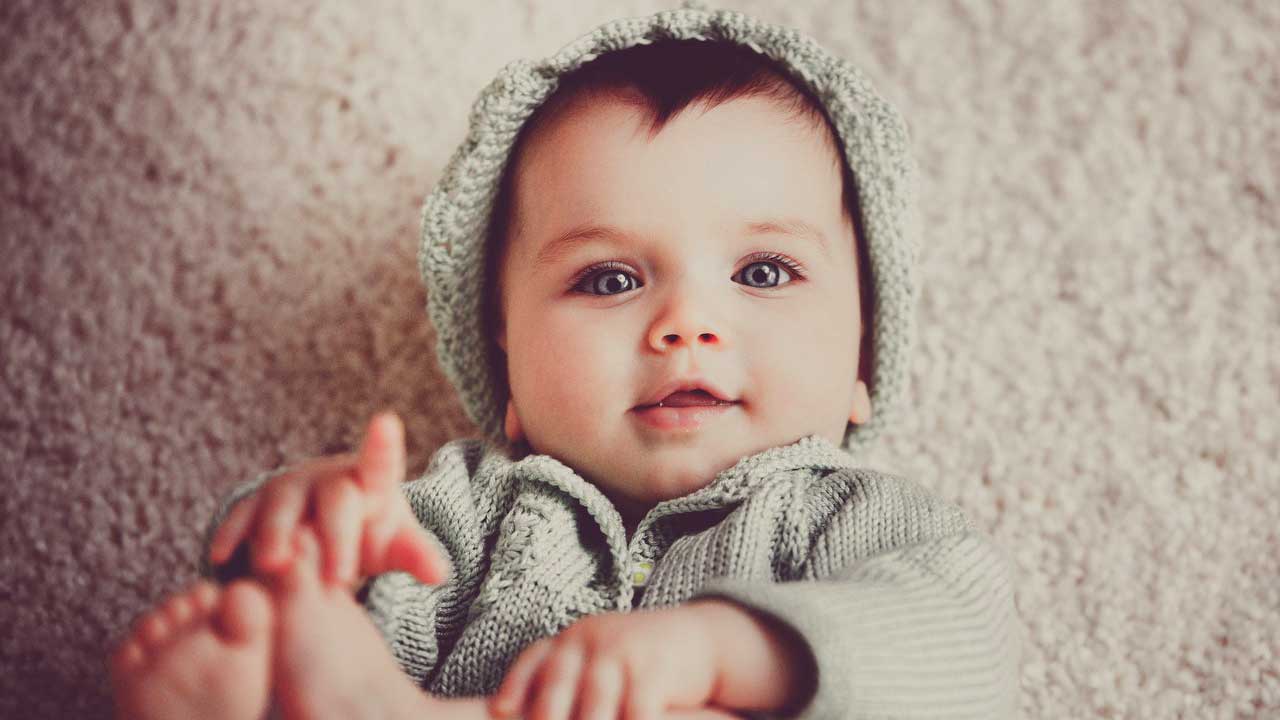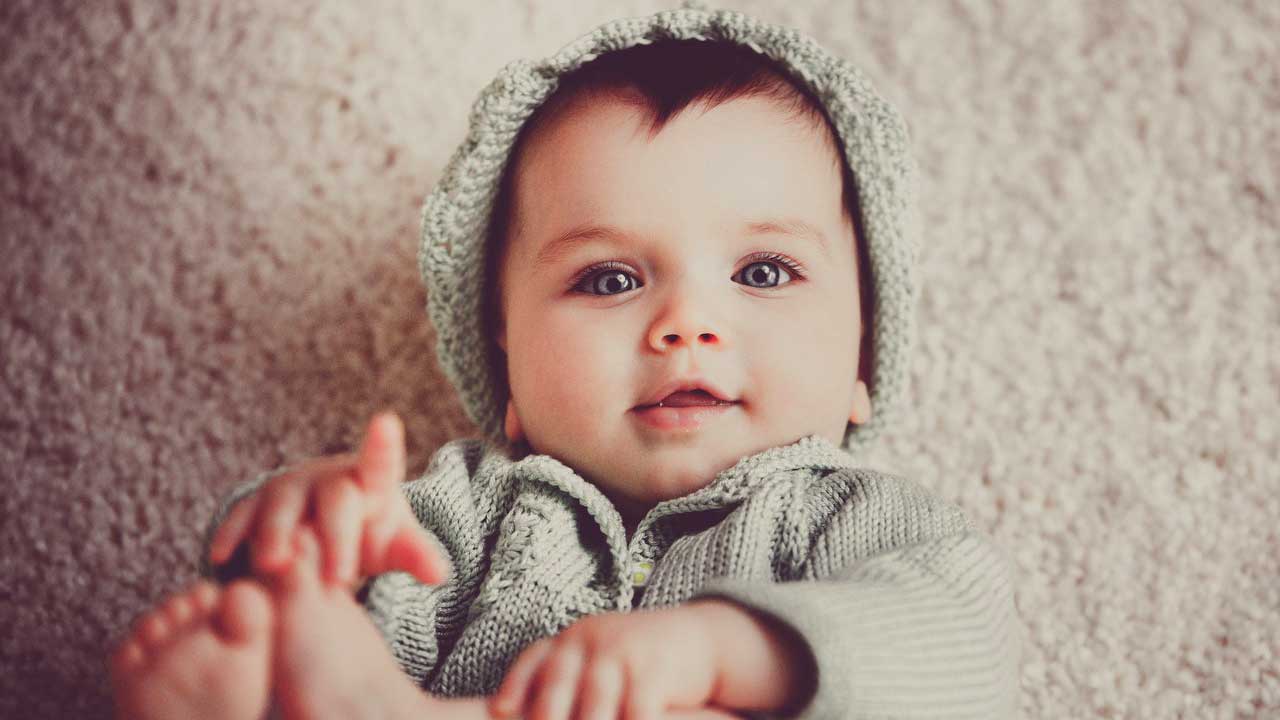 Why sustainable?
We want to leave our children a planet worth living on - we can contribute to this by consuming sustainably. In concrete terms, this means:
Only buy what we really need
Choose products that are as fair as possible in production ...
... as well as good for the environment: in production and in use.
Tip 1: Start minimalist and expand according to needs
Buying what we really need - that's really difficult, especially when it comes to the first equipment. With the first child, no one knows what's in store for him/her. A lot depends on the living situation, the time of year and above all on the child itself. Basically, it makes sense to buy only the really important things at first. You can buy everything else later.
Tip 2: Borrow, rent or buy second-hand
In the first year of life, your child grows rapidly - hardly any clothing size will be worn for more than two or three months. Many parents therefore have boxes of children's clothes stored in the basement that have hardly been used and are happy to lend you some.
There are also plenty of second-hand clothes, especially for the little ones. The advantages: The clothes are washed and therefore free of harmful chemicals; the CO2 footprint for the production is halved with each further use; and you save a lot of money.
Good sources are: Second-hand shops, the app vinted, ebay classifieds or also facebook and whatsapp groups, which exist in many cities.
You can even rent clothes now - at Raeubersachen.de.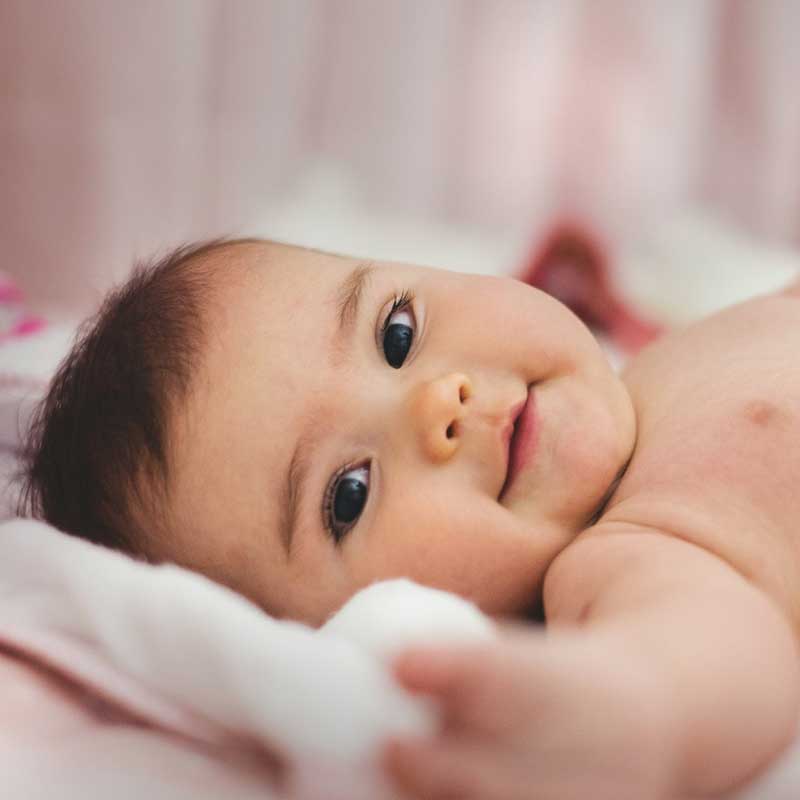 All three tips - borrowing, renting & buying second-hand - apply not only to clothes, of course, but also to toys and other baby supplies.
Tip 3: What do you really need?
Besides clothes in sizes 50 and 56, I can recommend the following purchases:
Breastfeedingpillow*and, if you are breastfeeding, washable nursing pads*
A breastfeeding pillow is very comfortable even during pregnancy and helps you to find a comfortable position despite your large belly. After the birth, it is helpful both for breastfeeding and for laying the baby down.
Gauze cloths*or burp cloths.
These are thin, large cloth wipes that are in constant use: As a changing mat on the way, to clean the mouth, hands and table, and of course: on the parents/on the child when the child actually spits up. Those who use cloth diapering can also use gauze cloths as a prefold.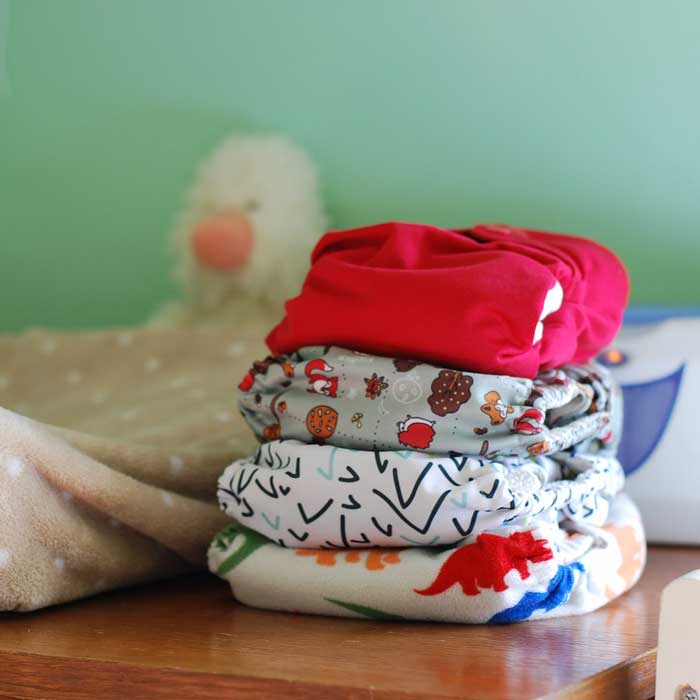 Nappies - preferably made of fabric .
Pampers & Co are mostly made of plastic. There are now more sustainable variants on the market that are at least partially biodegradable. However, they still have to be thrown away and still contain chemically treated, non-biodegradable elements.

Cloth nappies are an alternative that, if well cared for, can accompany two or three children through nappy season. This saves an average of 5,000 nappies per child - that's a lot of (plastic) waste! This has to be set against the water and energy required for regular washing and drying. The bottom line is that cloth nappies are still considered more environmentally friendly - and healthier for the child.

Matching: Flannelsfor cleaning, a changing mat and for on the go: a wetbag for clean and used nappies
At least at home, flannels can be used quite simply: If you don't change nappies in the bathroom anyway, you can fill a thermos flask with warm water and place it on the changing table every day.
Wet bags are very practical when out and about: they consist of two compartments, one for clean nappies and one for used ones. Of course, this is ideal for cloth nappies, but even if you use disposable nappies, you don't always have a rubbish bin to hand. (Because yes, you really do change nappies everywhere you need to!)

Sling / baby carrier, e.g. from Didymos, and a pram
Babies love body contact and the feeling of being carried. Some children can hardly be put down for months and/or only fall asleep while being carried. A good baby carrier or sling is therefore incredibly helpful - it keeps the baby happy and leaves you as a parent with your hands free. It is worth taking part in a baby carrier consultation in advance to find the best solution for you.

A pram is still practical, even if it's just so that grandma can go out with the baby without having to learn how to tie a sling. But the pram also has advantages when shopping and generally carrying a lot of luggage.
If you have a car: A babycar seat
Clearly, a baby may only be transported in a suitable baby car seat. Please note that the position in Maxi Cosy & Co is not ideal, especially for very small babies: the position is half sitting, half lying down. This is not ideal for the spine; above all, this position can lead to breathing problems in the worst case. Therefore: If possible, do not drive at all in the first month, and after that for a maximum of 1-2 hours (or plan many long breaks if you have to travel).
Baby cot (incl. mattress* and two sheets*) and 2 sleeping bags*
Expert:innen recommends not letting your baby sleep directly in its own bed, but as close as possible to the parents' bedroom. This way, the risk of Sudden Infant Death Syndrome (SIDS) is the lowest, but also the next breastfeeding/feeding with much less effort.
There are cots for the little ones, but they are only used for a few weeks or months - depending on how fast your child grows. Alternatively, you can buy a "big" cot in 60×120 or 70×140 and place it with one open side right next to your bed.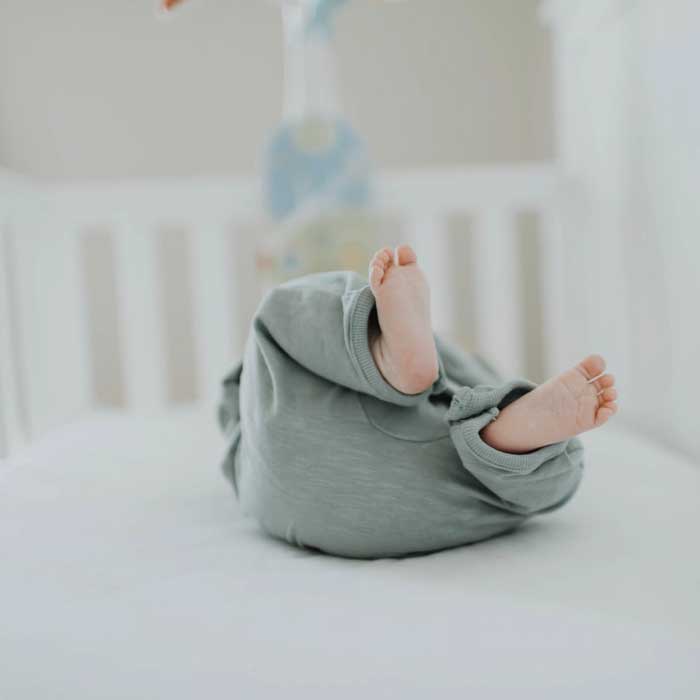 Changing table
Of course, theoretically you can (and will) change nappies anywhere. But if you are changing your nappy for the 10th time a day, you will be happy to have a back-friendly option. In addition, a changing unit offers plenty of space for clothes, which should indeed always be within reach.
Instead of buying a complete changing unit, you can also just buy a changing unit - this way you don't need a new piece of furniture if you already have something suitable.
Highchair with babyattachment
Sooner or later you will need a high chair anyway; with a suitable newborn attachment, your baby can sit at the table right from the start. For example, a used TrippTrapp from Stokke is suitable for this purpose, as it is usually stable in use for years.
Tip 4: Where to buy new?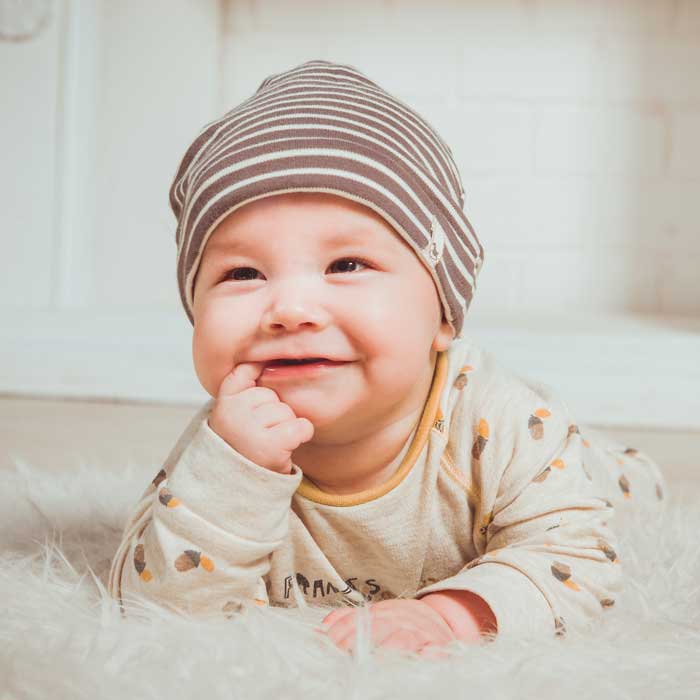 Clothes, bin liners and toys
Sometimes you need or want something new. In that case, I would recommend that you look for the GOTS seal seal. This applies not only to clothing, but also to other textiles such as bed sheets, cuddly toys and muslin cloths/soothers.
The following online shops are recommended for this purpose:
Changing units, cots and wardrobes
When it comes to furniture, it makes sense to pay attention to durability: Solid wood furniture is much more durable and can also withstand moving. If you no longer need the cot, you can easily sell it on.
It is ideal if the wood comes from Europe and the production is regional. This is the case with möbelum, for example.

Another option is to pay attention to the FSC seal label: It guarantees that the wood used comes from sustainable forestry.
Tip 5: Sustainable toys
Your child doesn't need any toys right at birth - in the early days, he or she can't see well and can't grasp things well. Everything that is available is new and interesting: the spoon as well as the expensive cuddly toy.
But that changes quite quickly. You can find an overview of sustainable and age-appropriate play ideas in the blog post: Sustainable toys for babies.
CONCLUSION
Many things that are part of the initial equipment are only needed for a short time. Borrowing, buying second-hand or renting are therefore sensible, sustainable options.
If you want or need something new, look for the GOTS seal for textiles and the FSC seal for furniture.