my sustainable bathroom
You have to start somewhere - and the bathroom is a good place to start. There is now a wide range of product alternatives that you can often find in the nearest drugstore. So no one has to limit themselves or do without in order to make their bathroom more sustainable.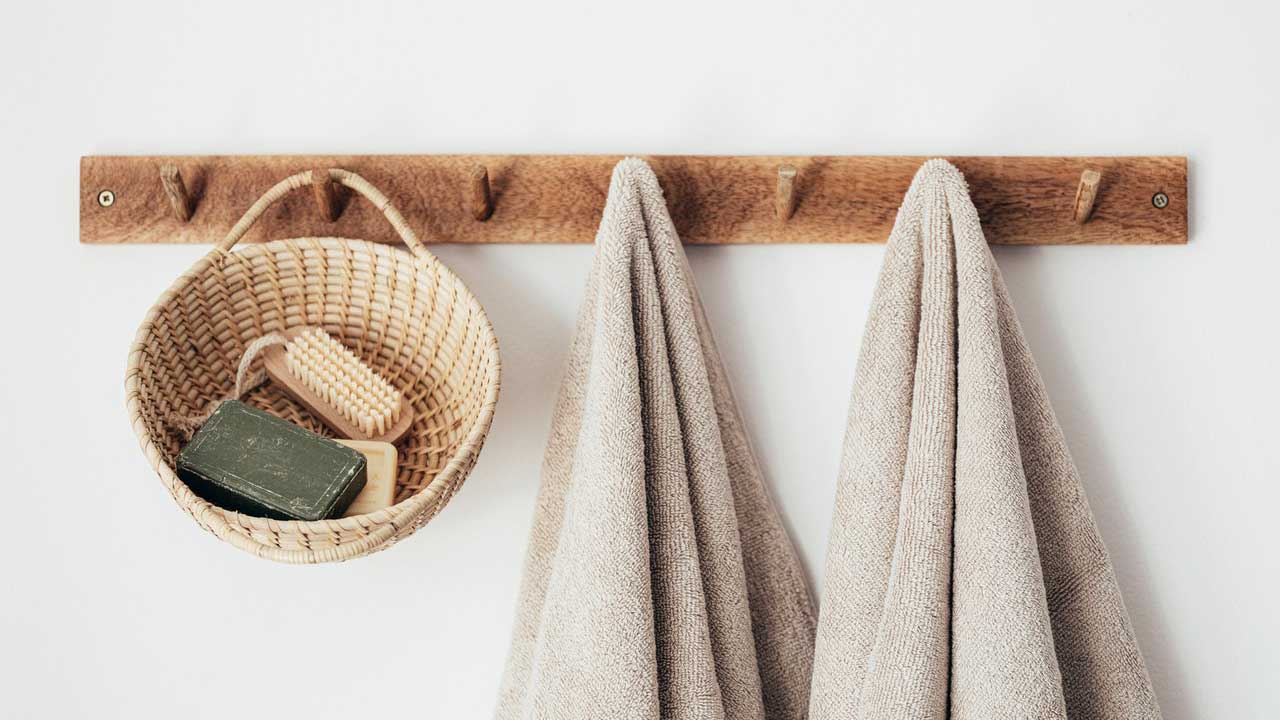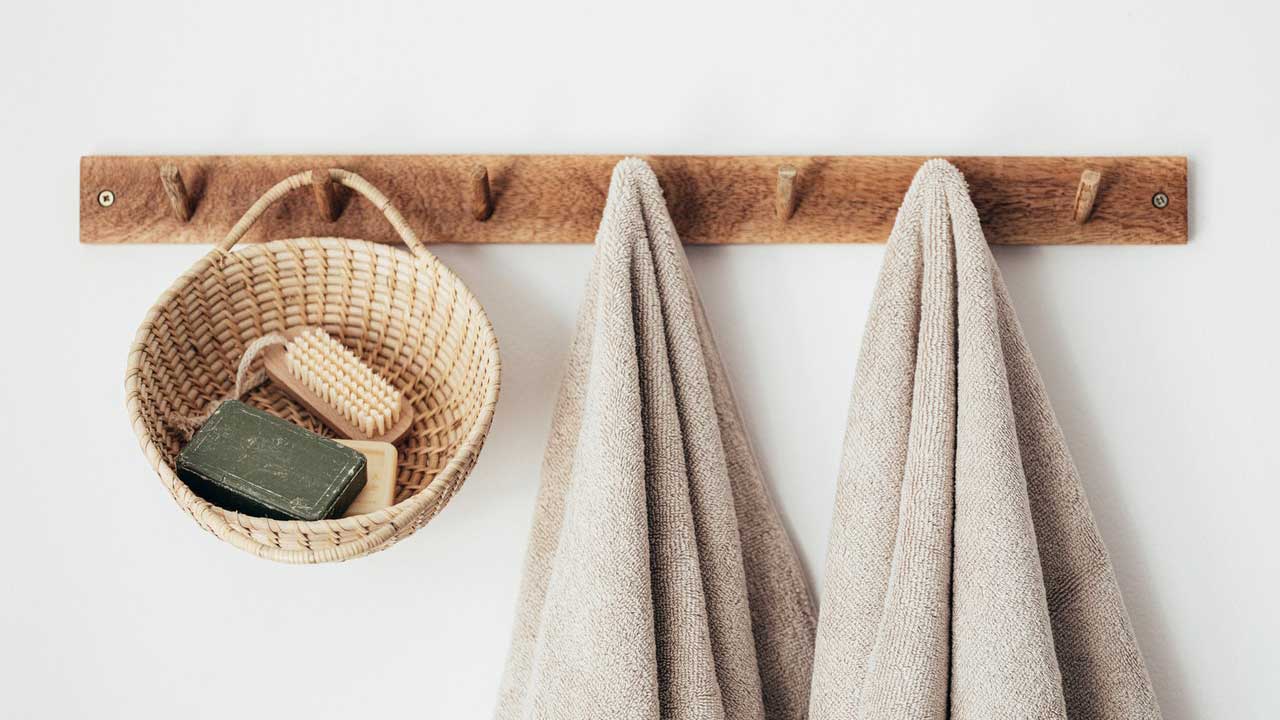 "Sustainable" is of course a big word that includes many aspects. Here the focus is on saving resources and (plastic) waste, which of course does not exclude other aspects such as organic and vegan.
Step 1: Use what you have. Buy (only) what you need.
Do you know exactly which products are in your bathroom cabinet?
Most people only have an approximate overview. They have expired sunscreens, dried-up nail polish and only half-used shampoos without even realising it.
Especially in the case of cosmetics, there are often bad purchases that are not used up; shower gels and bath bombs are often given as gifts, but not always used.
For a sustainable bathroom, you should first clean out and check what you already have . It is always most sustainable to first use up what is already there.
If you can no longer do anything with the item, give it away or sell it. Sometimes the only thing left to do is to dispose of it - this often hurts, but it is a helpful experience that protects you from new impulse purchases.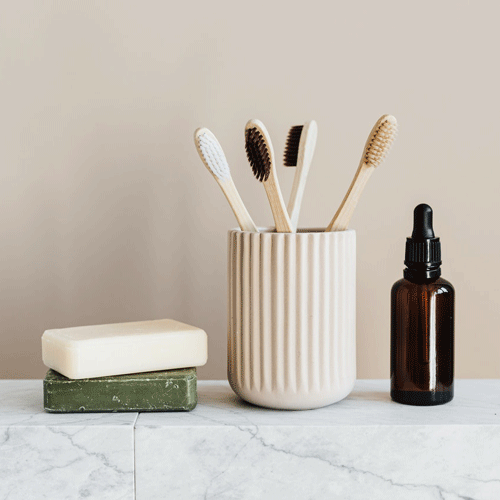 Step 2: Your new products: vegan, organic and plastic-free
Shower gels, shampoos and soaps are usually packaged in plastic. As a customer, I can't tell whether this packaging can be recycled well - that depends mainly on whether different plastics have been used or not. Basically, only about 2/3 of the packaging in the yellow bag can be recycled at all - and less than half of it actuallyis.
Infobox
The term "natural cosmetics" is not protected, so certificates are important. Among the best known are BDIH, NATRUE and ECOCERT.
➚ LEXICON: 
You can read more about plastic in the blog post (Micro-)Plastic and its consequences.
It is therefore best to avoid plastic - if possible - and buy products that are packaged in paper: Solid shower gel, solid shampoos and soaps are now available in every drugstore.
But plastic-free does not only mean packaging. Microplastics are also a big problem, because the small plastic particles do not even end up in the rubbish bin, but directly in the waste water. When buying peelings, liquid soaps and make-up, look for the label "without microplastics" or certified natural cosmetics.
Natural cosmetics also make sense for other reasons: ingredients made from crude oil are generally prohibited, the proportion of organic ingredients is high (depending on the seal). Furthermore, animal testing is not permitted. Attention: However, natural cosmetics do not automatically mean that the product is vegan! For example, honey may be contained.
Many products that are traditionally packaged in plastic are now also available in glass or other more sustainable packaging: these include toothpaste, deodorant, shampoo and lip care .
They are produced by the vegan natural cosmetics brands Ben & Anna*, i+m and PonyHütchen*. You can find some of the products in the drugstore, but definitely in the unpacked shop or in the respective online shop.
Step 3: Move away from disposable!
Sure, soap, shower gel and toothpaste are consumable products. However, many other items in the bathroom we could use for months or years instead of buying them as disposable products. This not only saves resources, time and waste, but is also easy on your wallet.
Straight razor  
Get rid of the cheap plastic razor and go for the high-quality straight razor!
Here you only replace the blade from time to time, so it's the perfect zero-waste product for the bathroom. 
Razor razors are suitable for all genders and are just as safe and easy to use. You can use them anywhere - face, armpit, legs, genital area, ... - and usually enjoy them for years.
Menstrual cups, menstrual underwear & cloth sanitary napkin
Those who have used tampons and plastic pads for years may find menstrual cups, underwear and cloth pads unfamiliar at first. After a short changeover, however, most are thrilled: using them is just as easy and hygienic.
Besides the big advantage of no more waste, you also avoid contact with potentially carcinogenic and hormonally active chemicals - which are found in every plastic bandage from the drugstore.
You can read more about this topic in the blog post Menstrual cups, cloth pads & co - sustainable feminine hygiene.
Washable make-up removal pads
Cleaning cloths are only used for a few seconds, yet there are numerous alternatives. Cleaning cloths made of microfibres save a lot of waste and do not require chemicals - however, they are made of plastic and should therefore only be washed in the Guppyfriend wash bag. Alternatively, make-up removal pads made of cotton can be washed without hesitation.
You can find a selection at avocadostore.de*, for example.
Please note: Many make-up removal pads are made of (bamboo) viscose. Viscose is a semi-synthetic material: this means that the fibres are based on bamboo or cotton, but are artificially refined. The process is very energy-intensive and releases many toxic chemicals. It is therefore better to avoid viscose.
CONCLUSION
The bathroom is the perfect place to get into more sustainable products. On the one hand, because there is a lot of potential for improvement here, and on the other hand, because many simple and cost-effective alternatives are now available.
Step 1: Sort out and use what you have.
Step 2: Buy sustainable products: plastic-free, vegan, organic.
Step 3: Avoid disposable products (razors, pads, make-up removal pads, ...)