The ideal size for cloth napkins: How to find the right size for your occasion!
The right size is also important for cloth napkins. We would like to explain why in the following article. First of all: cloth napkins that are too big or too small cannot be folded into any desired shape. But don't worry, making the right choice before buying is actually quite simple:
45 x 45 cm - The (optimal) measure of all things: 
The best known and probably most popular size are the classic and proven 45x45cm cloth napkins. Neither too small nor too large, cloth napkins in this size can be folded into almost any shape. Whether it's the elegant roll, the classic screw or simply combined with cloth napkin rings - you won't make a mistake with 45 x 45 cm cloth napkins.
This size combines the best of both worlds: optimal foldability and support when placed on the lap. Ideal for everyday use, all private occasions and family celebrations.
By the way: In our PDF instructions, we show you many beautiful folding techniques that you can easily fold yourself with cloth napkins in this size. Sign up for our newsletter at the bottom of this page and receive the free PDF instructions and a 5% discount on your next purchase.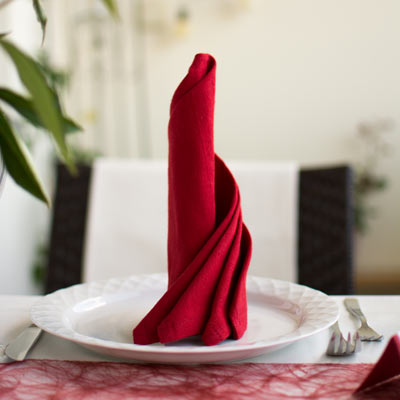 50 x 50 cm - The elegant choice for heavier cloth napkins
Larger cloth napkins are often found in restaurants or pubs. Either the larger cloth napkins are simply used to place cutlery on, or they are folded so that the cutlery can be placed in the cloth napkin. Other shapes tend to be the exception, as larger cloth napkins are generally more difficult to fold. In rare cases, cloth napkins of this size are also used folded. In this case, however, they often have a heavier fabric density, which makes folding seem easier again. 
This size is particularly suitable for commercial applications where the napkins often have to withstand high loads.
40 x 40 cm - Too small for most applications
Smaller cloth napkins can often be found at a lower price than larger cloth napkins. However, it is important to note that there is not only less fabric to clean the hands or face, but also not enough fabric for most elegant folding techniques. 
This size is more for the less demanding everyday use and for the smaller purse.
Conclusion
The normal and most popular napkin size is approx. 45 × 45 cm. It is suitable for high demands in everyday life and will do justice to any kind of occasion. The usually somewhat cheaper and less demanding alternative are cloth napkins measuring 40 x 40 cm and smaller. Do you use the napkins commercially? Then you might need heavy-duty napkins measuring 50 x 50 cm. There are usually special sizes for drinks, such as cocktail napkins, which are 25 x 25 cm when unfolded.