sustainable easter - 4 tips for the family celebration
Spring is here and Easter is just around the corner. If you want to celebrate sustainably, you can do so easily with these 4 tips.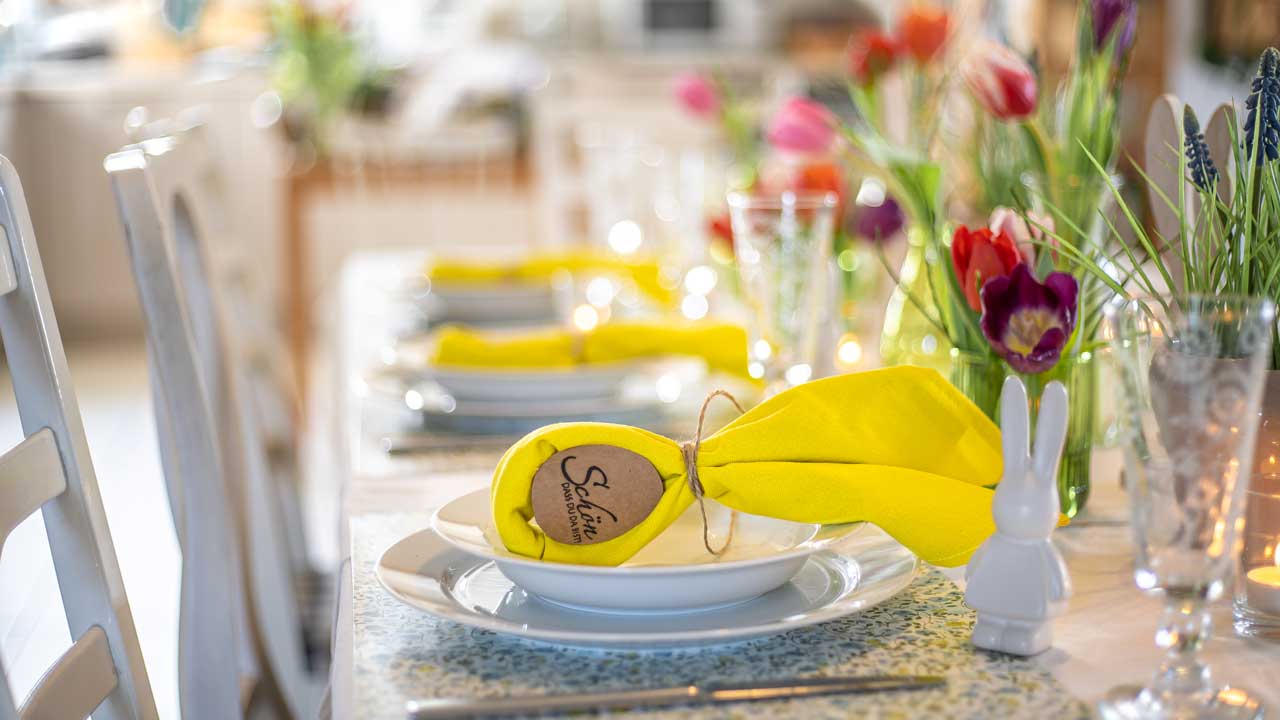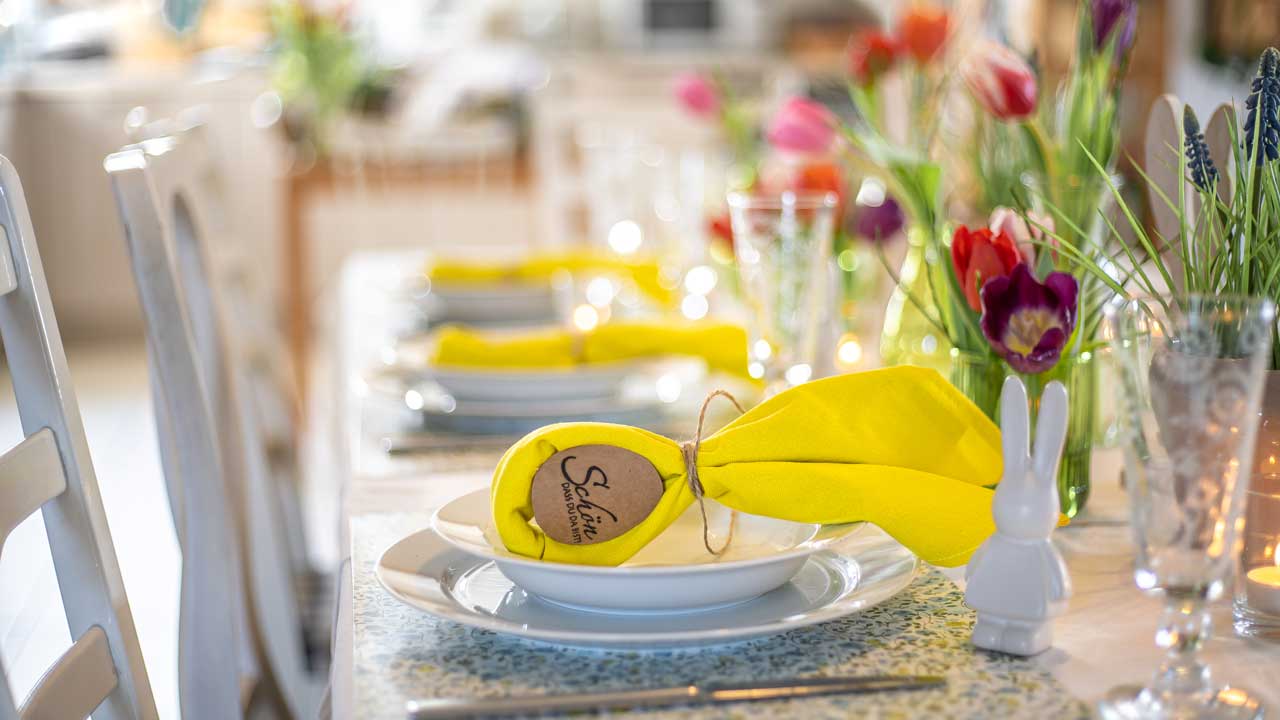 1. chocolate and coffee: organic, fair, vegan
For the children there are chocolate Easter bunnies, for adults the afternoon coffee - both should be fair & organic. Because Child labour is unfortunately not uncommon in the harvesting of cocoa and coffee beans. The reason is the low wages of parents who have no choice but to involve their children. You can recognise producers who pay reasonable prices for their raw materials by the Fairtrade seal; it is even better if you buy directly from the world shop.
Buying organic products protects the environment and has a much better carbon footprint, because CO2-intensive fertilisers and toxic pesticides are not used. It is even better for the climate to use vegan chocolate: The production of cow's milk is more CO2-intensive than that of plant milk.
2nd Vegan Easter Menu
Falafel instead of fish: Maybe it's time for new traditions on Good Friday, because fish no longer has a good reputation.
On the one hand, because of ethical aspects: Fish and other marine animals also feel pain and have a consciousness. In fishing nets they suffocate in agony or are cut open while still alive.
Fishing has also reached immense proportions: Overfishing is a major problem. According to the WWF, " 33 per cent of commercially exploited fish stocks are considered overfished and 60 per cent are exploited to the maximum" . If entire fish species are missing, the entire system is thrown out of balance.
In addition, fishing also causes problems "by the way": Huge fishing nets destroy the seabed and thus the habitat for many other animals. They catch everything that is in the wrong place - so many dolphins, whales, sharks, turtles and even seabirds die as bycatch. The dead animals are thrown back into the sea.
Old nets, lines or traps that are no longer needed also often end up in the sea: around 10 per cent of the plastic waste in the ocean comes from fishing. This is not only problematic because they are plastics (including all the chemicals that were needed to make them); the so-called ghost nets still pose a danger to the lives of many animals.
3. durable decoration
Easter bunnies, colourful eggs, spring flowers: the home and table should naturally get in the mood for the festivities. Items that are used for as long as possible have the smallest ecological footprint.
Therefore: When buying, look for quality and a timeless design. Ideally, you should look for second-hand decorative elements: You can often find unique finds on Ebay classifieds, next door.de or in grandma's/grandpa's basement. Doing your own handicrafts can also be fun, especially with children.
For the table decoration, you can use plants in pots or ask in the shop where the cut flowers come from: Roses and other flowers are not so rarely flown in - the CO2 balance is correspondingly bad.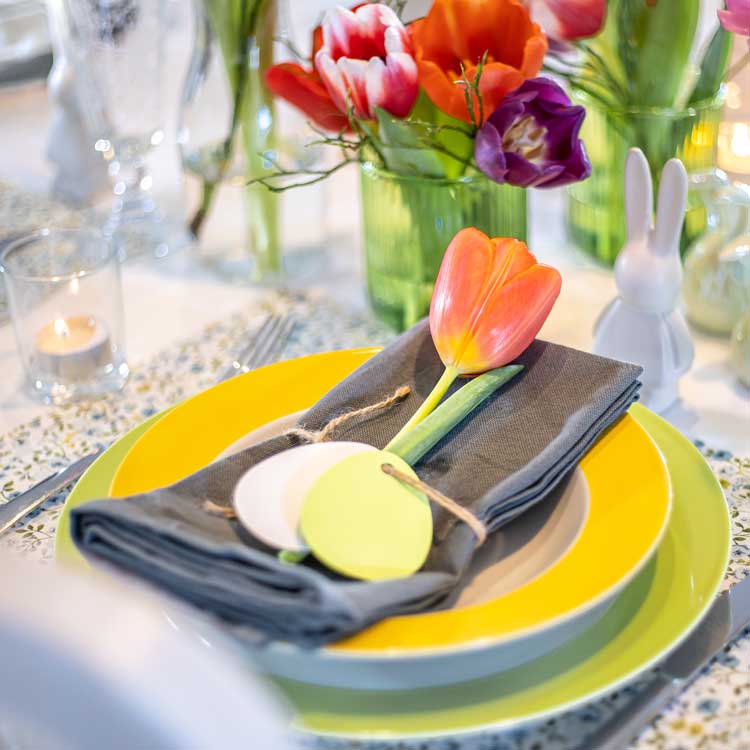 You can also avoid waste by using beautiful (organic) cloth napkins instead of paper napkins.
4. gifts
When you give a gift, you want to give pleasure: Therefore, ask about the wishes and preferences beforehand. Only if the object is actually used and utilised is it a sustainable gift.
If you know your tastes very well, you can also give organic fair fashion or books as gifts. Otherwise, things that can be used up (for example homemade jam) or experience vouchers are suitable: cooking together or going out to eat, cinema or a day trip to another city.
If there are specific wishes, you can perhaps buy them second-hand. Or you can donate to a charitable organisation in the name of the person concerned.
Whatever it ends up being: You don't need wrapping paper. It is only used for a few minutes and then ends up in the trash. Alternatively, you can use fabric, a sealable jar, newspaper or simply beautiful ribbon. You can be creative here!
CONCLUSION
Sustainability is also possible at Easter. If you look for a seal, longevity and benefits when buying chocolate, coffee, decorations and gifts, you are helping people and the environment.